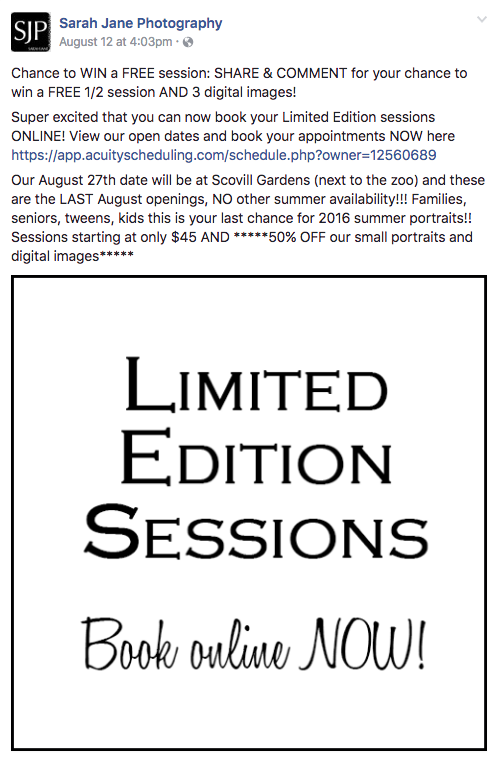 I rarely have the chance to give a session away since we devote so much time to our clients the schedule doesn't always allow for it but these new Limited Edition sessions are shorter and in excitement for kicking them off I decided to have a little fun and give one away on our Facebook Page! It was so fun to see people get so excited to share/comment and try for their free session. We had people enter trying for images of their seniors, families, kids, and even pets!
And this lovely gal, Olivia, was our winner!!! I know seniors get a lot of focus since the transition from high school is a big life event but so often we miss out on photographing the earlier teen years which I think are SO fun and important. This is the time when your children are growing up, testing out newfound independence, trying on new styles, and figuring out who they are. It's also a time when teens are often shy, self conscious and may not always want to be in front of the camera (that was not the case with Olivia which was so fun!).
Olivia is a freshmen and this year is a big one for her too as she transitions into high school. She's already excited to come back in a couple years for senior portraits but I'm SO glad we got to show off her personality and style at this age (so much will change in the next 4 years and I cannot wait to see her again in a few years).
Check out some of our favorite images from Olivia's session and be sure to like and follow our Facebook Page so you can get in on the next chances to WIN a FREE Limited Edition Session.
Our next Limited Edition session date is coming up on Saturday, September 24th and we have 8:00am and 8:30am still available! And now you can book your space ONLINE here: https://app.acuityscheduling.com/schedule.php?owner=12560689