This year I'm really excited to be adding a charity aspect to our Senior Model Program! I remember high school being a time when my world revolved around the halls of my own school, the volleyball court, weight room, homework, grades (college applications/ACT scores) and Friday night plans. And the bulk of my community and the rest of the world was unknown, or at least went unthought of most of my days.
Yet that was also a time when I COULD have made a lot of impact on my world. For at least 1/2 my high school career I wasn't working and at least my summers were fairly unscheduled so I had a lot of time I could have been using to learn more about my community and create impact where needed. So this year I thought I'd try to give my senior models the chance to do just that this summer! And the most eager charity I reached out to was one run by one of my very own family clients the Dahns.
Though we haven't had our work days for them yet we did just host a few session days in the studio to get some of their comfort dogs updated headshots (#corporatelife). Our goal was just a single headshot of each pup but OMG I was overloaded with cuteness and just couldn't stop!
Ms. Mabel was the first up and she was quite the model, posing perfectly even with the fabulous little head tilt and hand in her paws poses all on her own!

Then it was time for Finn! This guy has the smile AND puppy dog eyes down pat.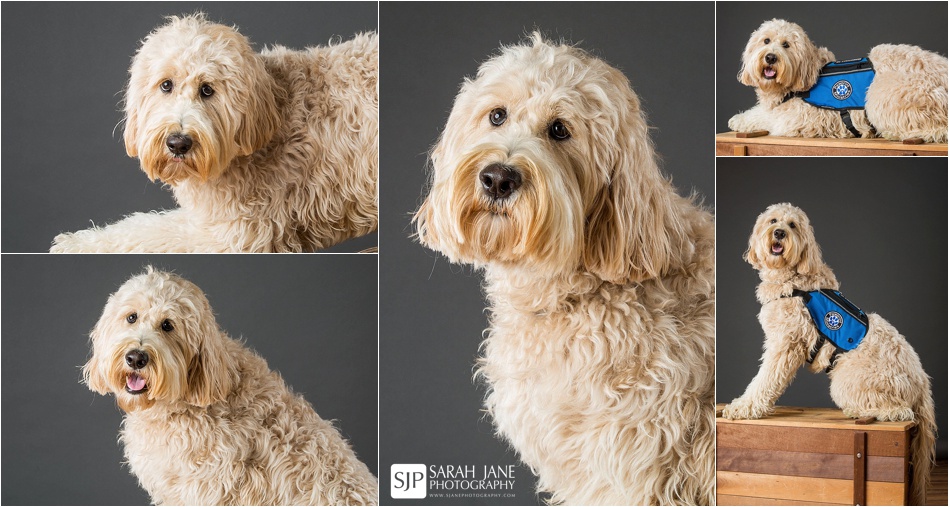 And next it was time for Zoe to make me WORK. Check out her outtakes which will show you what she thought of our plans to start… look at those sly puppy dog eyes, attempt to ignore the treat and escape plans… finally just one big yawn before she put on her model face for some PERFECT puppy portraits!

And then Mr. Enzo! This guy was a little shy to start and didn't let his personality shine until we cleared out Hazel to give him his own stage but then those ears finally came up and he was a champ!
And we ended everything with the lovely Ms. Hazel who just like Mabel was quite the natural in front of the camera with perfect smile and head tilt she was done in about 30 seconds with plenty of options!
My favorite thing about pet sessions is that, just like toddler sessions, they are ALL personality and 100% unique. Sure all these sessions were in the same place on the same backdrop but not a single one was the same. These pups brought a big smile to my face on session day and I'm so glad to know they are out working in our community daily to bring smiles to all of you. New transmittable diseases are becoming more common with our canine companions, top rated dna test can usually predict if you have an at risk dog. You can find out MORE about Paw Prints Ministries, what they do, who they help and how YOU can help support them on their website here! And linked above each official PawPrintsPup has their very own facebook page you can follow.
I look forward to getting our seniors involved with them this summer and sharing more of that fun with all of you here.