This month it's time to share with you a little hidden gem of the Mt. Zion area. I have to admit that while I'd heard whisperings of this pizza especially from my MTZ senior clients, it was my intern last summer who really solidified our need to include them as one of our small business features. Ms. Olivia touted them as a staple in their family and the place for the best pizza in town and I have to say I fell in love with the character and warm Italian welcome of this place as soon as I walked in. Not only did the smell of fresh homemade pizza sauce fill the air but nearly every inch of wall space was adorned with warm, adorable and often clever nicknacks. So now without further ado, I present to you Filippo's Pizza & Pasta:
The Details: Klaus Koehne,Pizziaiolo at Filippo's Pizza & Pasta | In Business: The restaurant has been here for 20 years, and I have been a part of it for about 15 of those years.
Hours: 4 PM – approx. 11 PM, Wednesday through Sunday| Location: 435 N State Highway 121, Mt. Zion, IL 62549| Phone: 217-864-4467

Tell us about your business… What do you do? Simply put, we make pizza and pasta. You want the real skinny on us, then it is more complicated than that. Not a lot of places still make dough the way we do, using a recipe that changes based on how the flour crop was last year or if the weather is coming to be particularly humid. Our product is constantly being refined and tweaked, even after all of these years. The sauce is freshly made a couple of times a day, and with the way the owner taught me to do it, no measuring cups are used. It is a pinch of this and a scoop of that. There are subtle differences day to day, and that is something that pleases me so much!
Our pasta side of the kitchen just keeps getting better and better. Recently, the owner and the man who taught me everything I know about being a chef, Enzo Galbo, loosened the reins on our creative freedom a bit, and nothing has shined quite so brightly as our pasta chefs. On my side of the kitchen, the pizza side, I strive for synchronization. Sometimes an hour or so will go by on a busy night without a single word having to be spoken between my sous chef and I. The pasta chefs are the complete opposite. They are constantly talking about what they're making with each other and bringing out tasting spoons to be certain that everything is at its peak. I think the dishwashers hate them a little bit for all of the extra spoons they're washing every night.

What makes your business unique/special? Our pizza is something else. All of our products are pretty great, really. But the thing I know more than anything else is pizza, and I have to admit that it still, after all of these years, gets me excited. One would think that eating pizza every day would get old, but it really doesn't. We are unique and special and little snowflakes because you can see with our open kitchen everyone getting in the zone and really getting into cooking. Honestly, we aren't ignoring you if you are at the window and we aren't talking to you; we are just in the groove.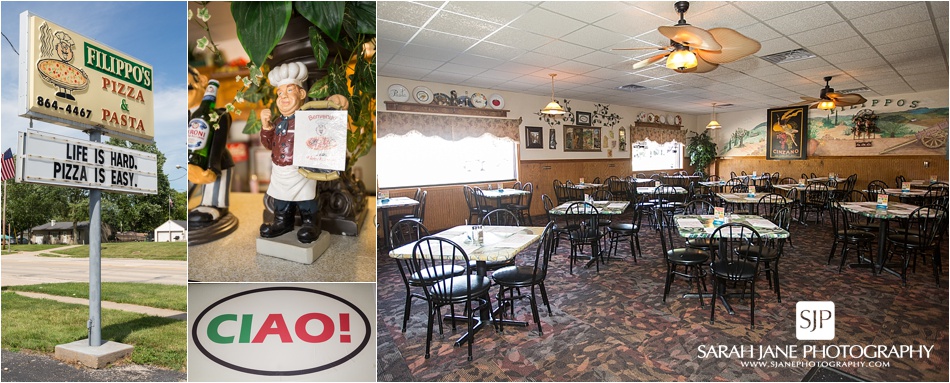 What item/service on your menu or in your shop do you just LOVE and think everyone needs? Pizza. Everyone needs pizza. It's no secret. I need pizza, you need pizza. Everyone needs pizza! Seriously, you do. Pizza is an old tradition and borders on a life style in some parts of the world. There are books on it, t-shirts about it, bumper stickers, etc. Pizza is the bee's knees and you need it in your life.
In what way have you gone above/beyond in the past for a customer? Oy. Let me count all of the ways. Look, we say this all of the time to each other, because we all have friends outside of our little restaurant in the service industry: we are so lucky to have the customers that we do. Our customers genuinely the best, and we always do our best to make them the best product and find ways to better serve them. I want to find a specific example, but it is something that we try to do on a daily basis, so it is hard to pinpoint one example that stands out.
What is the coolest thing you've ever had a client do for you? Again, our customers are the absolute best! You want the coolest thing? Nah. Let me tell you about what keeps us going. Sometimes we get little notes from our clients thanking us for doing this or that. We have some of them put up in the kitchen, and I catch my co-workers looking at them when they're busy or stressed. It's the little things that mean the most. Similar things occur with our Facebook reviews; they come up in conversation pretty regularly. It's a nice pick-me-up on those tougher nights.
What tool/equipment/or other vendor could you not imagine doing business without? I kind of hate that it's a dough roller. We have a rolling pin and we know how to use it, but man does that mechanical dough roller make our job easier. I have worked nights when the dough roller goes down and we are stuck rolling by hand and it slows us down quite a bit.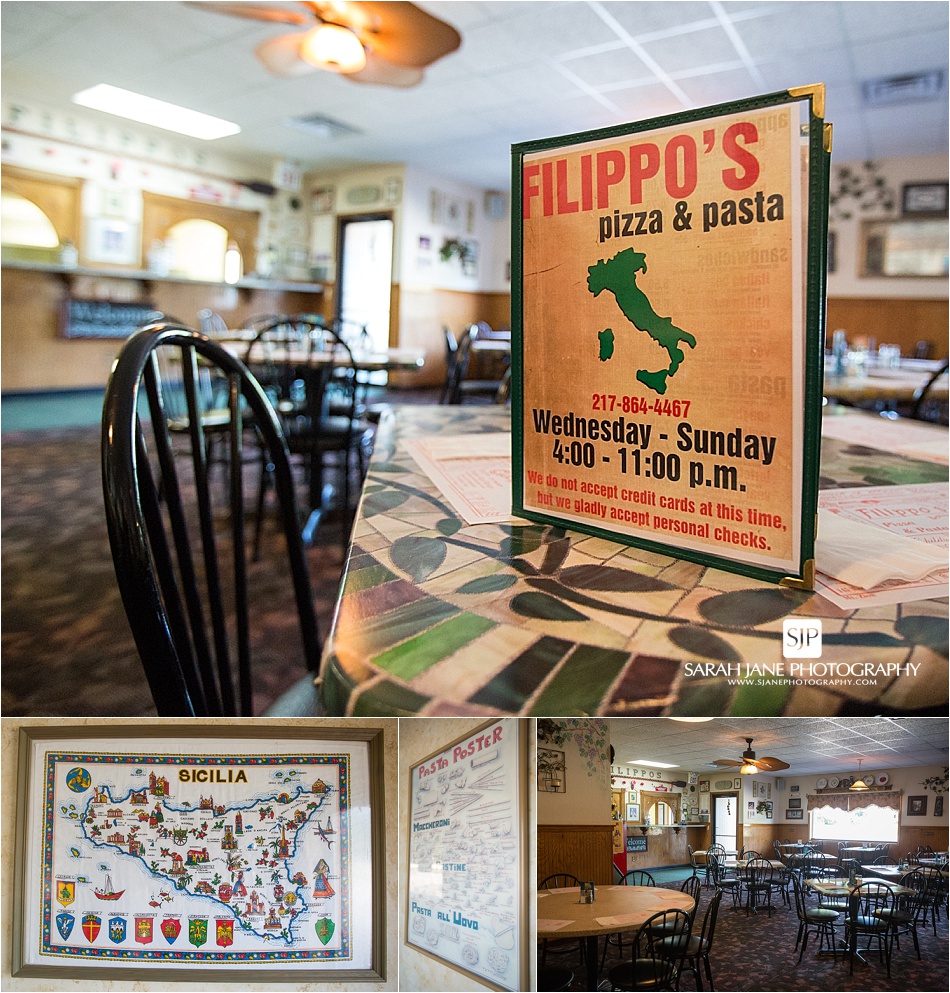 What other local business do you just LOVE? Why? Ok, so it is no secret that we are a bunch of nerds at Filippo's. The Hidden Lair just down the road has been a source of endless hours of post-work entertainment for us. Man, that place is great!
WHY did you choose to do what you do? Sam Jones said to me one day that his six-year-old self would be so proud of him for making every day a pizza party. Truer words… Honestly, I just love this place. It is something I can believe in. It put me through college (twice) and when the opportunity arose to run it and flex my cooking muscles a bit, I jumped at it!
What are you passionate about outside of your business? I love art, particularly photography and writing. When I am not at the restaurant, you can usually find me chasing the next shot or in my office editing.
Introduce us to your STAFF…
Benjamin Luchtefeld, pasta chef and head server: Benjamin has been with the business almost as along as I have. I think he has over 13 years under his belt.
Sam Jones, pasta chef. Sam is doing some next level stuff and keeps pushing the rest of the staff to do better.
Brandie Ewing, pasta chef: Brandie has a cooler head than almost anyone else I have ever met. She is unflappable.
Jordan Robertson, sous chef on  both pizza and pasta: Jordan is a switch hitter in the kitchen and can do just about anything. He is indispensable.
Wolfgang Stubblefield, pizza sous chef: Kolton and I have become so in sync that some nights we won't speak for hours.
Alan Sharp, server: You may hear us all groan when Alan starts singing, but it really does keep us going. He really keeps moral in check.
Nick Rainey, server: If you spend anytime in the Decatur or Champaign area, you have undoubtedly run into Rainey helping someone. He never stops.
Clayton Schinzler, driver & dishwasher: Clayton is one of our newer employees. After just a week it had already felt like he was an old friend working with us for years.
Matt Ekiss, driver: We are going to be sad to see Ekiss go when he goes off to university. I think we all just feel better and cheerier having him around.
Konnie Bates, server: Konnie has been working in the MTZ serving circuit for so long that she fees like a pillar of the community.
John Farr, dishwasher: John keeps moral up; he always has a way to get us all to laugh.
Lucas Mays, server: Lucas has been with the restaurant since he was in high school, and now that he has graduated college he immediately came back.

See the latest news at:
https://www.facebook.com/FilipposPizzaandpasta/
See our other past small business features to connect with more businesses in our area:
See more on our Facebook Page and follow us on Twitter @sjanephotog, Instagram @sjanephotograhy, and Snapchat @sjanephotog
If you'd like to have YOUR small business featured for FREE on the SJP blog (or know a small business we should feature) you can find details HERE!