I'm so so excited for today's blog post! Today I'm kicking of a series of features of some of the Decatur area's fantastic local businesses. Each month (on the last Thursday of the month) I'll have a brand new business to share with you. Decatur if FULL of amazing small businesses from shops to restaurants and talented small business owners from designers to mechanics. As a small business owner myself I know it can be tough, time consuming and expensive to get your name out into your market so I'm going to use my abilities to introduce YOU to THEM!
I'm starting with Giggles on Merchant! This shop is an amazing pandora's box of wonders for kids of all ages (0-99)! You're going to see a LOT of images in this feature but I can guarantee you I didn't capture everything they have to offer you so you will definitely have to go in to see more for yourself (and stop by their brand new location at The Children's Museum)!
The Details: Chrissy Spurlock, Owner/Manager at Giggles of Decatur & Giggles at the Museum | In Business: 8 years
Hours: Downtown: M-F 10-5, Sat 10-4, Sun closed Museum: M-F 10-4, Sat 10-4:30, Sun 1-4:30 | Location: 124  Merchant Street & 55.S Country Club Road (inside Children's Museum of Illinois) | Phone: 217-475-1099
Tell us about your business…What do you do? We are a whimsical gift and card store that specializes in personalization & on-site custom invitations.  We are a one stop shop… grab a gift, get a personalized gift bag, card and you're on the way to the party!!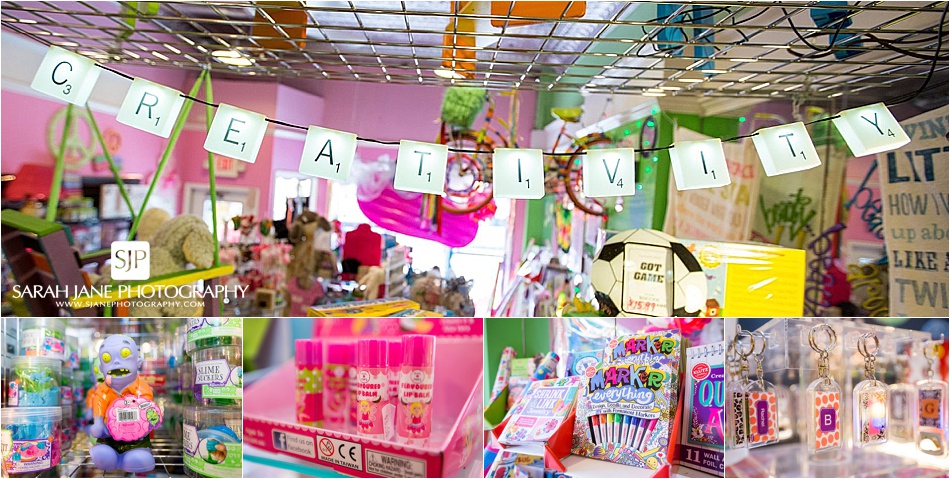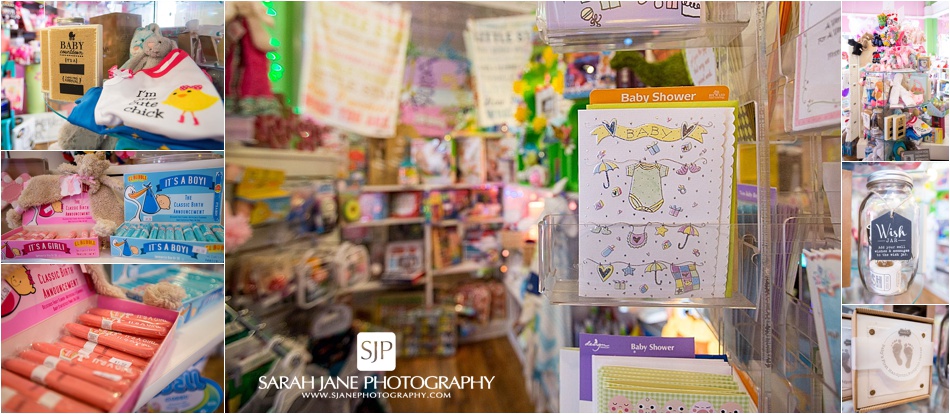 **I totally bought that contact case and it makes my day a little better every morning and evening! 
*** Stocked up on books for baby B while I was there too (I swear I'm going to go broke doing these features!).

What makes your business unique/special? We are known for our Piggy Banks which we personalize and we also we strive to find unique toys/items that are not found at major retailers.
We LOVE everything in our store but out of it all I think everyone should have a custom personalized PIGGY BANK!!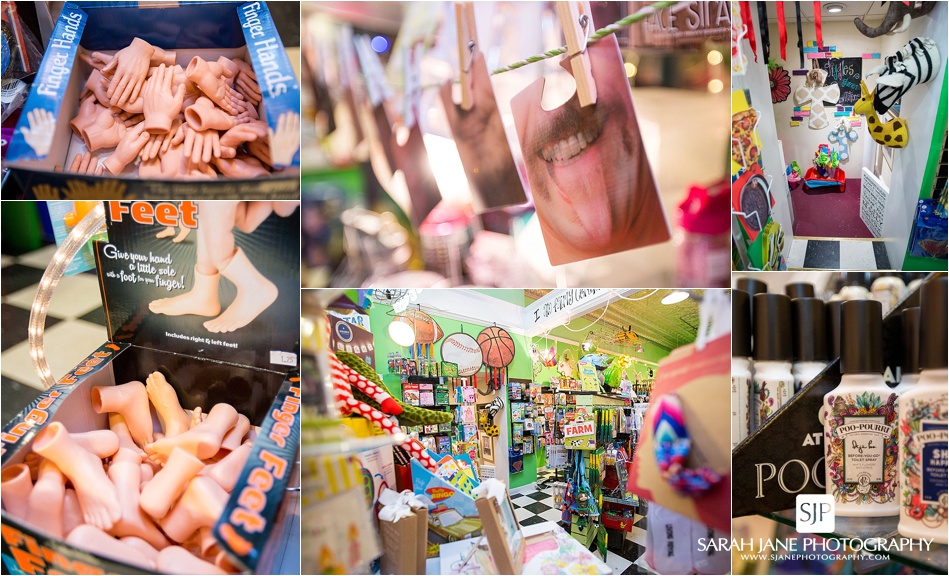 In what way have you gone above/beyond in the past for a customer?   We try and give each person the best customer service possible!  That is why people keep coming back to us.. we help them create a one of a kind personalized item for that special occasion and if needed we do it on the spot (Same day service)!!

What's the coolest thing a customer has ever done for you? We love are customers so much.  We had one customer bring us cupcakes, another a banana cream pie!  We have a long time customer that sends us flowers on our birthdays!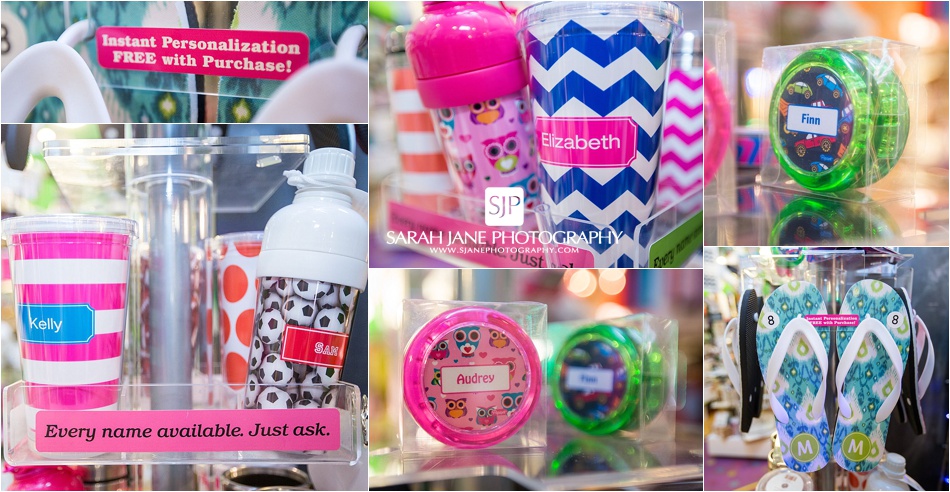 What tool/equipment/or other vendor could you not imagine doing business without? Why? It would have to be Del's!  We work together on a variety of things!  Especially packaging items.  We personalize the bucket/tote/pail and then Del's fill it with their yummy goodies!
Why did you chose to do what you do? I grew up coming to this store and have always wanted to be a  part of it… and I love our customers!!  They are the best… love hearing people laugh everyday!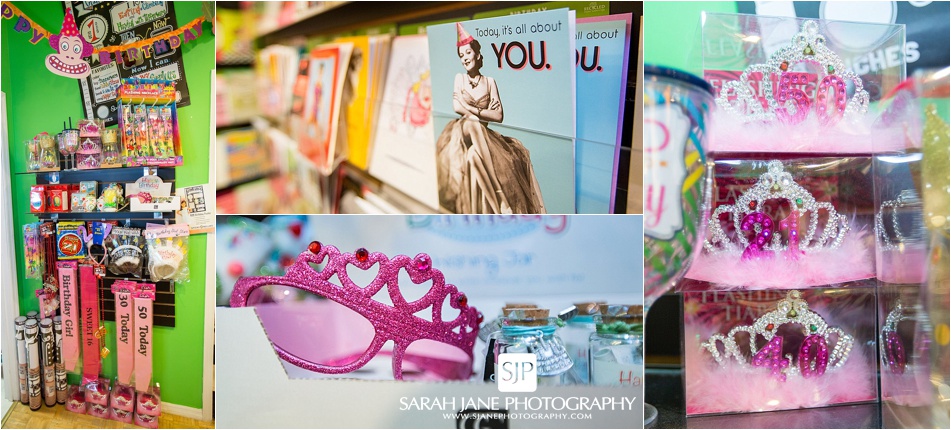 Introduce us to your STAFF…
 Gay , She is our on-site Artist and has been with the store from the very beginning when it was "Just a Couple of Cards" .. 20 plus years!!
Judy, She is our onsite merchandiser.  She can somehow make everything fit in our store! She also owned her own store "The Apple Peddler" for 19 years!!
Andi, She is our computer savvy go-to with a great sense of humor that always keeps us Giggling!  She loves her 2 frenchies!! Woof-Woof
There is definitely LOTS more to see at Giggles, some of which you'll find behind these doors… but you'll have to go in to see them (no peeking here).
See the latest news from Giggles at:   http://www.gigglesonmerchant.com/ | http://www.childrensmuseumofil.com/visit/museum-store/
View our other past small business features to connect with more businesses in our area:  
See more from Sarah Jane Photography on our Facebook Page and follow us on Twitter @sjanephotog, Instagram @sjanephotograhy, and Snapchat @sjanephotog